Concrete scanning - Western Australia
Services for Bunnings
Security measures were being increased to Bunnings warehouse stores with concrete scanning required prior to the installation of Steel bollards in front of Bunnings' entry and exit trade doors across various Bunnings Warehouse Western Australia store locations.
The advantage of concrete scanning provided by Westscan using high-resolution ground-penetrating radar with 3D images meant the drill hole locations could be concrete scanned for utility services imbedded in the concrete slab or beneath the concrete driveway. The GPR radar scanning also revealed square steel tongues at even spacing's. Identifying these steel tongues greatly assisted the project by allowing slight repositioning of the bollards so as to miss the steel tongues. Identifying any potential hazard i.e. services or anomalies is essential before drilling or excavating.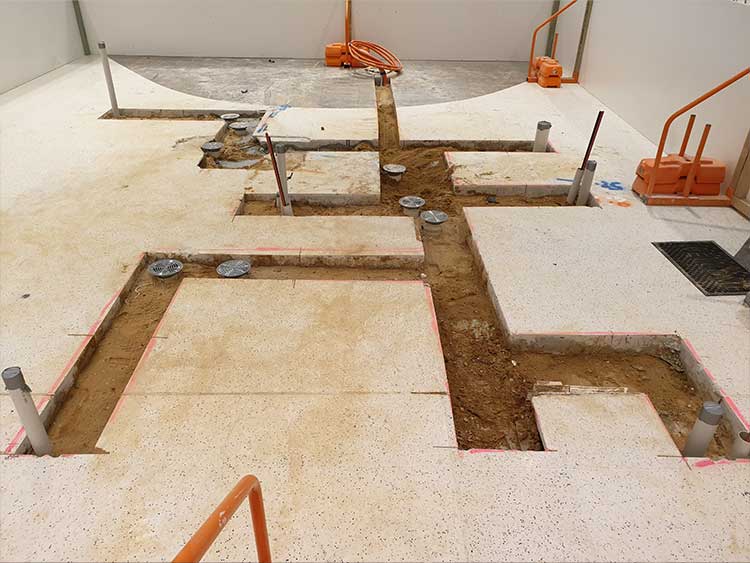 Site – Bunnings Armadale, Bunnings Australind, Bunnings Belmont, Bunnings Cannington, Bunnings Ellenbrook, Bunnings Halls Head, Bunnings Harrisdale, Bunnings Jandakot, Bunnings Joondalup, Bunnings Maddington, Bunnings Melville, Bunnings Mindarie, Bunnings Port Kennedy.
Site owner – Bunnings warehouse (owned by Wesfarmers. Wesfarmers has a diverse business operation with businesses in the energy, fertilisers, home improvements and general merchandise)
Location – Armadale WA, Australind WA, Belmont WA, Cannington WA, Ellenbrook WA, Halls Head WA, Harrisdale WA, Jandakot WA, Joondalup WA, Maddington WA, Melville WA, Mindarie WA, Port Kennedy WA.
Scope – Concrete scanning and utility locating for services in front of building trade entry and exit doors.