Daily Vehicle Inspection Check List
Brief Summary
Explaining why it is a good idea to conduct daily vehicle inspections
What is a daily vehicle inspection check list?
Regular inspection of a vehicle prior to use will assist in giving the operator information regarding the vehicle's basic condition. The inspection may highlight worn or damaged parts from previous operations; to record these inspections a daily vehicle inspection check list is used.
Daily Vehicle Inspection Check List
Below is an example of a daily vehicle inspection check list carried out on a ford utility that has a few items that need some attention.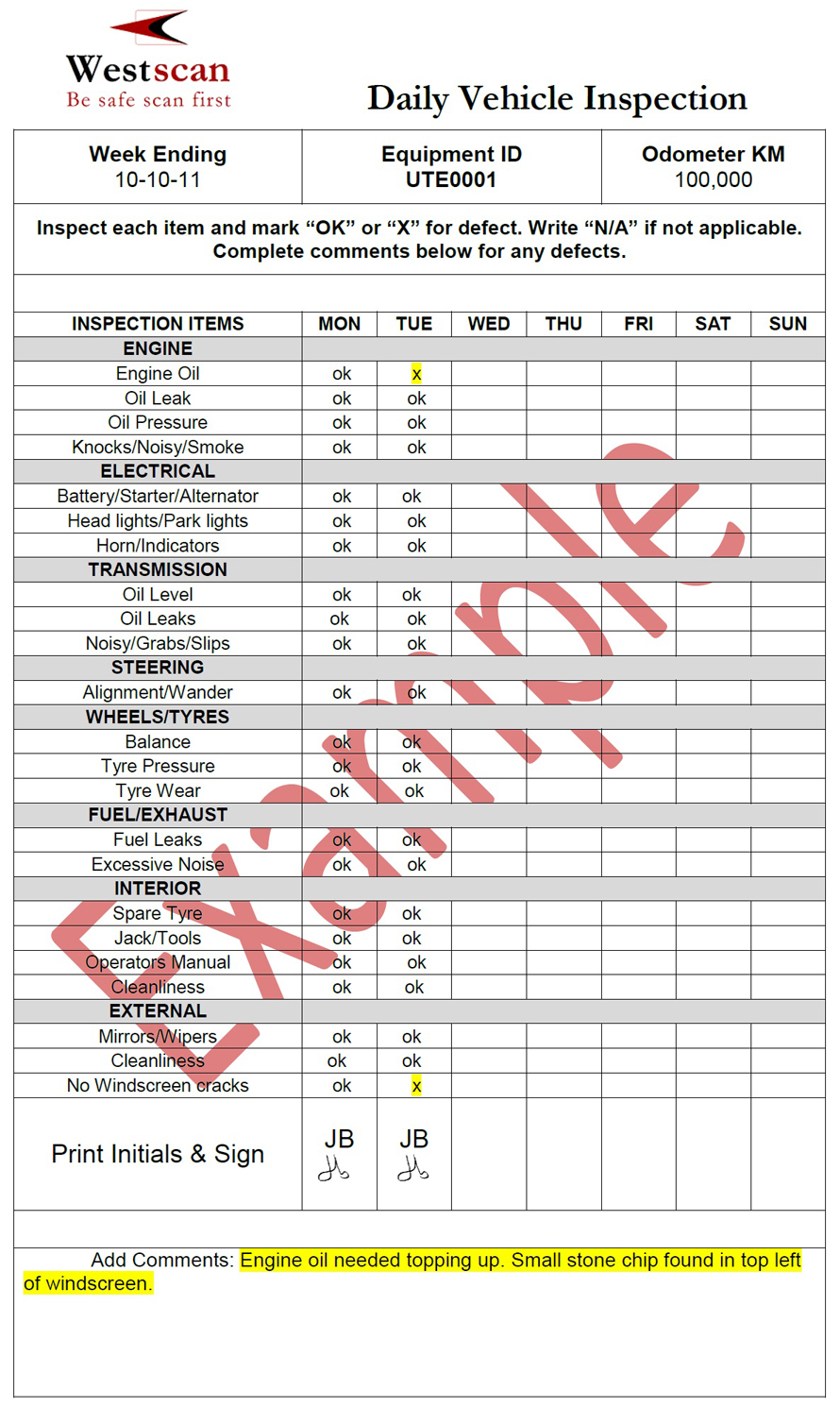 The daily vehicle inspection check list has been broken up into three sections
Section 1 as shown below identifies date, equipment ID and km reading which allow us to maintain history log of the vehicle for future reference
Section 2 as shown below is identifying which parts of the vehicle you should inspect for wear or possible defects from previous use, for the inspection below on Tuesday a check of the engine showed the oil level was down below operating requirements and that windscreen had been damaged
Section 3 as shown below is for the operator conducting the vehicle inspection to comment on the inspection where attention is required, and give further detail on what action has been undertaken or to report that the vehicle is not fit for operation. By completing your initials and signing allows maintenance personnel to identify who conducted the inspection so further information can be understood to assist in vehicle repairs.
Please note: That this is an example of a Westscan (Perth, Western Australia) locators vehicle inspection check list and to always consult your vehicle operator's maintenance manual for specific checks and routine inspections.